Home » Events, Featured, Photos, Videos
Phoenix New Times Street Eats Food Truck Festival leaves a bit of a bad taste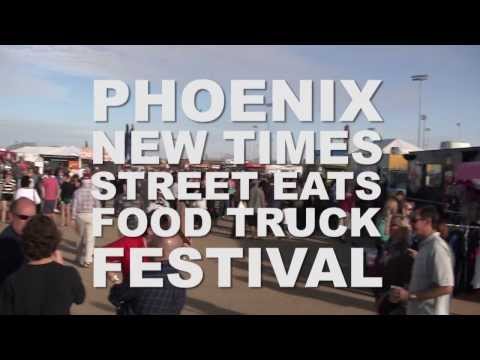 I remember growing up hearing food truck food, while cheap, wasn't good and would probably leave you painfully regretting your choice to eat at them. I think the only thing I ate from a food truck in my younger years was probably basic hamburgers and hot dogs, I didn't get sick but I wasn't impressed. Then, several years later, I had some delicious barbecue pulled pork and fresh made slaw from Tom's Pig Rig while at one of Downtown Mesa's events. Then my eyes were opened to the wonderful world of mouth watering food truck food. I was even more hooked when I tried my friend's cheesy mac and rib sandwich from The Grilled Cheese Truck at last year's Phoenix Film Festival. After that I started watching shows and documentaries about food trucks and the different varieties of foods they provided. I have always been a foodie and through the years have learned to appreciate hole-in-the-wall eateries, people's different takes on basic foods, and trying different things I had never heard of. Needless to say, I was super excited to go to the Phoenix New Times Street Eats Food Truck Festival, especially after reading the beautiful long list of vendors attending. Putting so many different tasty foods together in one place sounded like heaven to me. Since there was a charge to get into the festival I figured there would be samples galore so that attendees could expand their palate with tastes of different food truck foods, and then spend their money on their favorites. Even the event website said that the food truck vendors were likely to give discounted food and free samples — awesome!
We went to the festival on Saturday, it was later in the day, maybe 3 p.m. The free parking was nice and by that time the lines for tickets were short and we were able to buy our tokens rather quickly. We walk into the event and were overtaken with scents of delicious foods from the rows of food trucks. As we wandered through the festival we waded through long lines of people eagerly awaiting their taste-tacular food experiences. There was a children's activity area with inflatable fun and human hamster balls. There was music in the bar areas and live music on the stage. They had plenty of eating areas to take your food and enjoy it in the company of friends. There were cooking demonstrations and the remains of eating contests that looked like they were a blast. We hurried along and got our media coverage verified so that we could take time to enjoy the festival for ourselves. There was roasted corn on the cob, gourmet grilled cheeses, giant burgers, cheese curds, lobster rolls, fry bread, ramen, Cajun food, satay, ice cream, kettle corn, shaved ice, etc… The more pictures I took the more excited I was to try things.
After we finished our work we went looking for what yummy things we were going to try and which things would win our hearts and our tokens. Very quickly I realized there were no free samples, or there were very few and they were not well advertised. I saw only one sign saying "free samples", otherwise I saw signs that said $2-$4 for a sample. Like most of the people I know, we don't have a lot of money to spend as we like, so our options became limited very quickly. We didn't end up getting any free samples or any samples at all. We figured we might as well spend money on a full plate of food if we're gonna have to pay almost half just for a sample. So my excitement turned into frustration as I searched for the one or two things we would try. As we searched we noticed the prices seemed mighty high considering they were supposed to be discounted. Now, since we're media, we get into events like this for free because we are working, but my friends who had also come to the festival did pay to get in and so my frustrations soared as I realized how expensive the food still was. $8 for just a sandwich and $12 for a small Cajun platter, that's all we ended up getting. I understand that these vendors have expenses…but people paid to get in, you are getting an overwhelming amount of sales, you should be giving a discount. After moping around, lusting after the different foods I wasn't going to be able to indulge in, we decided it was time to go. I was so disappointed and irritated. Maybe most of these kinds of events are like this, but I felt duped.
When we got home I decided to look at what the regular prices of the foods were, to see how much of a discount they had, if any. In many cases I saw that some of the food trucks actually increased their prices instead of a discount. It may not have been by much but not only did they fail to discount their food, they increased the prices. I'm not saying the food wasn't good, I honestly couldn't tell you since the prices limited my tasting plans and the food we did try was tasty. I'm saying they should have not been so greedy. I'm sure they still did well, there were a lot of people there but I won't be attending again and I warned my friends that it probably wasn't worth it for them to pay to get in and then pay their jacked up food prices. Might as well just wait for Phoenix's 1st Fridays and enjoy their gathering of food trucks and only pay the price of the food. There are other food truck gatherings to be enjoyed as well, you just gotta look for them. Sure, some of the trucks that were at the festival were from out of town, but most were local. Overall this was a very disappointing experience.