Home » Religion, Town Crier
Mesa bike preacher 'Dizzy' Disbrow is now wavin' and shoutin' on streets of heaven
It is just hard to  believe that Robert "Dizzy" Disbrow is no longer out on the streets of Mesa praising Jesus and shamelessly on fire for the Lord.  A curiosity, a sideshow, a harmless eccentric, Dizzy didn't care that he was scruffy and loud and, well, just weird.   Most of the regular drivers on East Main Street in the Stapley Drive area were used to Dizzy's  clowning around for God.
Some thought he was a phony. Some thought his drug and alcohol abuse in earlier parts of his colorful life created a pathetic man who didn't know about public decorum anymore.  He wasn't homeless, but some thought he was.
The last feature story I did for the Spiritual Life section of the Tribune (Jan. 3, 2009)  before my layoff  was about him. "'Dizzy' For the Lord" was the headline, with a subhead: "Mesa man's ministry inhabits a busy intersection for God."   As my weeks with the Tribune counted down, I managed my remaining stories to include one of Dizzy, a guy I had written about a number of times in my years as the Town Crier columnist and religion editor.    Sometimes, it was just about people's inquiries about Dizzy not being around. (He'd go north to cool off sometimes).
"Downtown Mesa's street preacher dies at 56" was the headline on writer Michelle Reese's story in Sunday's Tribune. She nicely profiled Dizzy and borrowed  from  my 18-month old story. Dizzy died of cancer about 11:30 a.m. Saturday.   I was glad to see that his much anticipated lump payment from a legal settlement from a 1990 accident with a metal recycler truck had come in and that he could use it to help his family. He would openly talk about joining the Army in his late teens, going to Korea, having a nervous breakdown, and getting on drugs like LSD. "You name it, I did it," he admitted.
My last story about Dizzy carried this paragraph, "For nearly 17 years, the self-proclaimed 'entertainer for God' has been a fixture on his bicycle as he rides up and down East Main Street, constantly gyrating his arms in godly gestures and holding up his wooden cross with a small Bible-banded to it by shoestrings.  The thick-bearded, sun-baked man of alternative hats may be the most recognized person on a Mesa street. He turns heads and causes drivers to roll down their windows to shout a 'Hey, Dizzy!' What they get back are assorted gestures of exuberance and whooping words of rejoicing and encouragement."
In his later years, he did more walking back and cross on the streets of his favorite intersection, rather than  riding his bicycle.  He would give high-fives to other pedestrians in the crosswalks and explode in robust blessings for them.   "All the time, he does ostentatious hand signals that cause drivers to acknowledge him.  And some occasionally give him an obscene gesture to this unsinkable cheerleader for God…."
He would tell drivers not to honk at him. "Give it to God," he would instruct.  One of his mantras was to shout "FAITH," — an acronym for Fantastic Adventures in Trusting Him."  Dizzy confessed that there were days when his enthusiasm waned.  "I get depressed. The devil gets on my mind," he told me. "  He said he even lapsed in reading his Bible some days.  "I fail some mornings. I'm not perfect. Nobody's perfect, except Jesus."
He called himself a heathen until 1989 when he confronted Christians roasting hot dogs and hamburgers in Mesa's Pioneer Park. One guy in the group was an old drinking buddy from Tempe days who was "born again." He was making a lot of sense to Dizzy, who subsequently found a place to stay in Apache Junction, made new friends and got "water baptized."  Then came the bike accident, recovery, setbacks and drinking, a substance abuse program, confronting his demons, self-renewal and his street-preacher calling. Transformation through rough and tumble.
"I am a sign and a wonder for those who seek God," he said.  He had more than a few bicycles stolen, but he only had to tell people, and a new bike was found for him.  The one he was riding last year was gotten for $39 from Wal-Mart by a guy who told the story of Dizzy's street work and apparently got a big discount.
The guy with the transistor radio with headphones, the guy who played  "air guitar" or "air saxophone," the guy with the series of hand genstures, roars has been silenced by Demon Cancer.
I end this blog with the same words I ended that feature story last year, "'This is warfare. Jesus is coming very soon, and we have a job to do.'  The house of the Lord, he said, has a door 'that has been opened for me, Robert Disbrow, and that room is the entertainment room.  I come into this heavenly room and I start entertaining for God."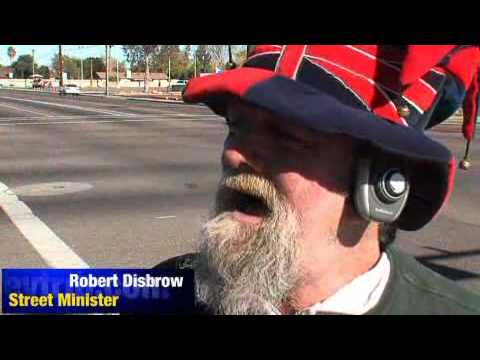 Tags: Dizzy Disbrow, Mesa